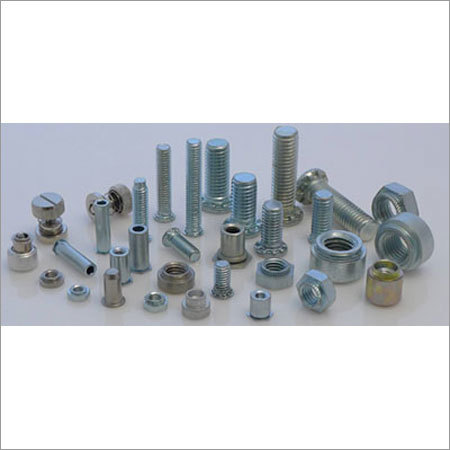 Product Description
Steel Fasteners are basically used for the purpose of holding. They are also used in industries, workstations, so that machines can be inclined properly. Our company manufactures quality assured products like anchors, bolts, hex set screw, nuts, screw, socket screw, stud, washers, & many more. We can also provide customized steel fasteners as per the client requirement. All our products are at affordable prices and made from the finest quality of steel. We believe in customer satisfaction and building long lasting relationship.
Specification :

| | |
| --- | --- |
| Specification | ASTM A193 / A194 |
| Dimension | DIN, ASTM, BS and all International Standards |
| Size | M2 TO M80 |
| Form | Round, Hex, Square, Ring |
| Type | Bolts, Nuts, Screw, Socket, Stud, Screw, Hex Set Screw, Socket Screw, Cap Screw, Pan Head Screw, Machine Screw, Washers, Spring Washers, Studs, Anchors, Marine Anchors, Nut, Hexagon Nut, Hex Nut, Hex Domed Cap, Square Nut, Stud Bolts, Hex Head Bolts, Socket Hexagon Head Screw Anchor Bolt, U- Bolts, J Bolts, Mushroom Head Square Neck Bolt, T - Head Bolts, Wing Screw, Eye Bolt, Foundation Bolts, Structural Bolts. |
Stainless Steel Fasteners Specification
Size : M2 TO M80
Stainless Steel : ASTM A193 201, 202, 304, 304L, 316, 316L, 316Ti, 321, 347, 317, 310S, 309, 904L, 410, 420, 430, 440 A,B,C.
Carbon & Alloy Steel Fasteners Specification
Size : M2 TO M80
Carbon Steel : ASTM A105 , ASTM A350 LF2 GR. X42/46/52/56/60/65/70, IS 2062, IS 2002.
Alloy Steel : ASTM / ASME A193, A194 GR F 5, F 9, F 11, F 12, F 22, F 91.
Inconel Fasteners Specification
Size : M2 TO M80
Inconel : ASTM / ASME SB 163 / 167 / 517 / 704 / 705 Inconel 600, Inconel 601, Inconel 625, Inconel 718, Inconel 800, Inconel 825, Inconel X-750, Incoloy 800, Incoloy 825, Incoloy 925
Monel Fasteners Specification
Size : M2 TO M80
Monel : ASTM / ASME SB 163 / 167 / 517 / 704 / 705 Monel 400 (N04400), Monel K400, Monel K500 (N05500)
Hastelloy Fasteners Specification
Size : M2 TO M80
Hastelloy : ASTM / ASME SB 163 / 167 / 517 / 704 / 705 Hastelloy C22, Hastelloy C276, Hastelloy C4, Hastelloy B, Hastelloy C-2000
Cupro Nickel Alloy Fasteners Specification
Size : M2 TO M80
Cupro Nickel Alloy : ASTM SB 61 , SB62 , SB151 , SB152 UNS No. C 70600 (Cu-Ni 90/10), C 71500 (Cu-Ni 70/30)
Nickel Alloy Fasteners Specification
Size : M2 TO M80
Nickel Alloy : ASTM / ASME SB 163 / 165 / 167 / 464/ 517 / 619 / 622 / 626 Nickel 200 (N02200), Nickel 201 (N02201), Nickel 205 (N02205)
Duplex Steel Fasteners Specification
Size : M2 TO M80
Duplex Steel : ASTM A182 UNS 2205 (UNS No. S31803), 2507 (UNS No. S32750)
Contact Us
301/b, Pratiksha Tower, R. Snimkar Marg, Faras Road, Mumbai, Maharashtra, 400008, India
Phone :+918068342848